Virat Kohli celebrates his 29th birthday on Sunday and as per the tradition of the Indian cricket team, the Indian skipper was not spared. Kohli's face and hair was smeared with cake but one teammate was especially happy with the going-ons in the Indian dressing room. Hardik Pandya was on the receiving end of not a simple cake smearing session but more like a cake bashing session on his birthday on October 11 this year. The all-rounder swore "sweet" revenge that day, and he got his first one as the Indian team plastered cake on Kohli following the 2nd T2OI between India and New Zealand.
Pandya took to Twitter after Kohli's birthday celebrations and posted a picture with the India captain and captioned it,"Revenge no. 1. Happy birthday, skipper".
Pandya had turned 24 on October 11 this year. The likes of Yuzvendra Chahal, Rohit Sharma and a few other Team India members took great joy to put cake all over his face and body.
A few days later, Pandya took to Twitter to post a video of the celebrations and swore revenge.
Don't Miss: Google Doodle celebrates 90th birthday of Japanese statistician Hirotugu Akaike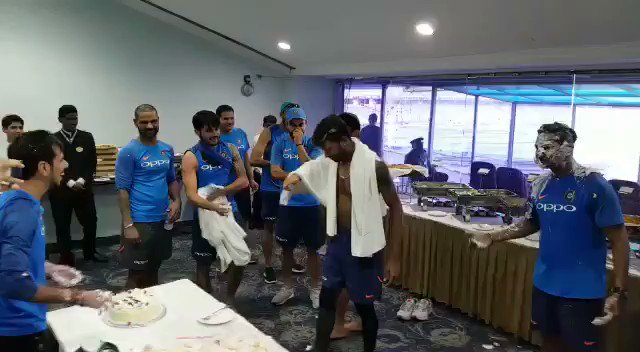 New Zealand opener Colin Munro played a brilliant unbeaten knock of 109 off 58 balls to power New Zealand's 40-run win over India in the 2nd T20I in Rajkot on Saturday night.
The Kiwi bowlers made sure the 197-run target was out of reach of India's famed batting line-up with some disciplined bowling.
Trent Boult starred for the visitors with a spell of 4/34, in which he dismissed India's in-form openers early on in the run chase.
Although captain Virat Kohli kept India's hopes alive with a typically aggressive inning of 65, studded with a six and eight fours, the home team's asking rate kept climbing steeply and in the end, they fell well short.
The hosts ended at 156 for seven. The third and final match of the series will be played on November 7 at Thiruvananthapuram.